Our lives are going to be big. We've always known it.
Our generation has more options, more education, and more "potential" at our disposal than any other in the history of humankind.
Yet, what happens when your dreams of making a big difference or making a lot of money fail to happen?
What happens when all the choices and options become the never-ending cereal aisle that we can never leave? What happens to us then?
When it seemed like I was doing nothing, I was stuck, disappointed, and hurt by my lack of talent and God's lack of faithfulness. Instead of moving forward, I did what I know how to do best. Complain. Moan. Punch my pillow and pout.
Drowning in options is a terrible way to die. (click to tweet that)
My desire to do something big was clearly not happening. Until I started understanding this secret.
The Secret to Doing Something BIG
If you want to do something big, you must first have the courage to be faithful in the small. (click to tweet)
What if we walked around actually believing we have a specific purpose for our lives—to bring life to the world around us in the every day?
I'm not just talking about joining in the latest provocative social justice issue. Not that you shouldn't. Or that you shouldn't still desire to impact the world. But it must start simpler and more everyday than that.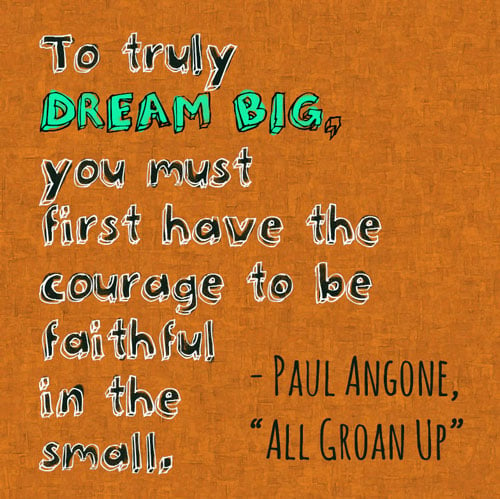 It's not just about social justice. It's about being just in your daily social sphere.
You don't join a cause. You live in one. Every day.
It doesn't have to be labeled "big" to be worth your time. (click to tweet that)
It doesn't have to be monumental to be worthy of our effort.
It doesn't have to be "social-media-worthy" for you to take a picture. (click to tweet that)
Every single day you have the chance to forget about your "problems" and help the world with theirs.
You can't help humanity if you've forgotten how to be human.
Right now where you sit, if you feel like your big dreams and hopes aren't coming true, maybe God isn't ignoring you. Maybe God is saving your life.
We cry out for a big calling, yet like a newborn colt trying to carry a huge load, the big would've crushed us.
Our generation wants to make a big impact, and that's an amazing vision to have. Yet, why do we think we're going to bypass the years of training, refining, loneliness, brokenness, and failure it's going to take to make it happen?
It took me ten years of re-writing, failing, and starting over before my new book All Groan Up: Searching For Self, Faith, and a Freaking Job! became the real thing it needed to become.
We have to find meaning in the mundane before we can bring meaning anywhere beyond. (click to tweet)
Maybe our big dreams need to die so that our true purpose can be born.
To read how I learned this lesson from Shopping Cart Man, check out my recent article for OnFaith and/or snag my new book All Groan Up: Searching For Self, Faith, and a Freaking Job! in which this article was adapted from.