"Don't chase your dreams, grow them. Plant them in the best soil you can find and water them every single day.
And remember: like an avocado seed, it might take about 7 years before you see any fruit." – 101 Questions You Need to Ask in Your Twenties (and Let's Be Honest, Your Thirties Too)
A big shout-out to all you dream-planters out there!
I so much appreciate you all. The emails and comments I've received from you over the years is what has helped feed my soil as I wondered if my dreams were going to ever make it above ground.
Thank you!
I'll be traveling across the nation this month to Santa Barbara, Denver, and Nashville, and I wanted to make sure we could connect, if possible.
Here's the details of the three events I'll be at, two are open and free for anyone to come and one is a paid conference.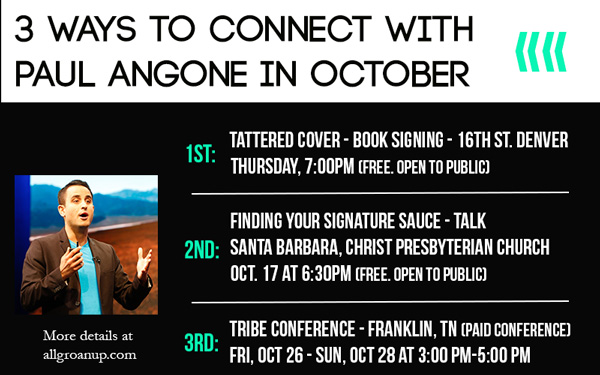 First: Tattered Cover Book Store – Thursday, Oct. 11th – 7:00pm – Denver, CO
This one's coming in a few days! I'll be hanging out at the great local bookstore, Tattered Cover at the historic downtown Denver location at 1628 16th Street, Denver, CO 80202. I'll mainly be just signing books and hanging out with anyone there. Pretty low-key event. And it's free!
Second: Uncovering Your Signature Sauce – Santa Barbara – Wednesday, October 17 at 6:30 pm
I'll be doing an Uncovering Your Signature Sauce talk, presented by Providence High School, in Santa Barbara, CA. The event is free and open to anyone who would like to attend. The talk is geared towards parents and their students, but will be applicable to all ages. It will be held at Christ Presbyterian Church, 36 E. Victoria Street, Santa Barbara. 
Third: Tribe Conference – Franklin, TN – Fri, Oct 26 – Sun, Oct 28 at 3:00 PM-5:00 PM 
I will be one of the speakers at this amazing three day Tribe conference for writers, artists, and creative entrepreneurs. 
Click here to find more details about the speaker line-up at the Tribe Conference.
The conference is sold-out for the public, but they are allowing a few more spots for personal invites from the speakers themselves. So consider this your personal invite from me!
This event will be full of information and inspiration. It is a paid conference, but if it helps you get unstuck and start moving forward more strategically towards your dream, it's going to be worth every penny.
Thanks everyone! I hope to connect with you in person this October.
Have any questions for me? Always feel free to email me direct at [email protected]
Keep warring for hope. Keep talking about and believing the truth of your future, even if the present feels lackluster. – 101 Secrets For Your Twenties