What's the secret to doing amazing work? 
I'm constantly searching for the sure-fire formula. For the right mix of inspiration, coffee, and time that I can mix together to create something amazing.
Yet, most times I fall flat. My inspiration runs empty, even as my coffee intake keeps increasing.
I complain that I don't have enough time, then end up wasting too much of the time that I have.
Yet, this week as I stood at my great-uncles farm in Kansas, I was reminded of the answer to doing amazing work.
It's simple.
The secret to doing amazing work — keep showing up. 
Keep working the ground.
Keep grinding. Keep planting. Keep watering. Keep building.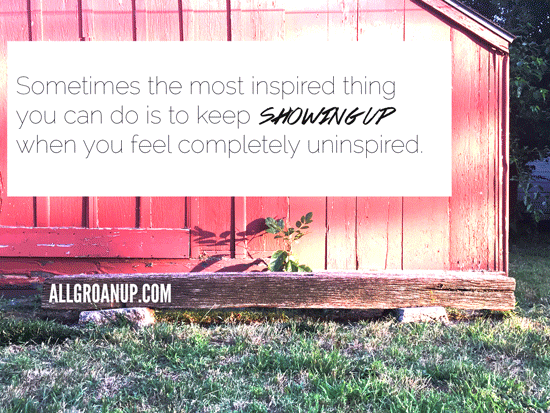 As you might have heard me say before that I need to remind myself daily —
Sometimes the most inspired thing you can do is to keep showing up when you feel completely uninspired." (click to tweet that)
As you look around my great-uncles farm and see what he built, it's one amazing accomplishment after another.
No fanfare. No frills. Just consistent, quality, every-dayness. 
He'd work hard. Make progress. And then you know, a tornado would hit the farm (actually three tornadoes, three different times, according to my cousin).
Or something would break down. Or it wouldn't rain.
Yet, he never stopped doing what he knew he needed to do.
Most amazing works aren't birthed out of inspiration, they are forged out of necessity. 
Find another way. Keep working the problem. Keep showing up. Do amazing work by continually doing the work.
I recently was interviewed by On The Road Radio with host Ryan Thomas and we had a great conversation about the power of showing up like a farmer. Listen to the interview here.