Reality Checkers are everywhere.
And they love dishing out doses of reality like they're a doctor and this is the prescription you need.
You know the kind.
Where you share with them your Everest-Sized Dream and before you can even finish they rattle off the seven reasons your dream won't work. Reality Checkers lather you in their own fear and insecurities, and call it sound advice.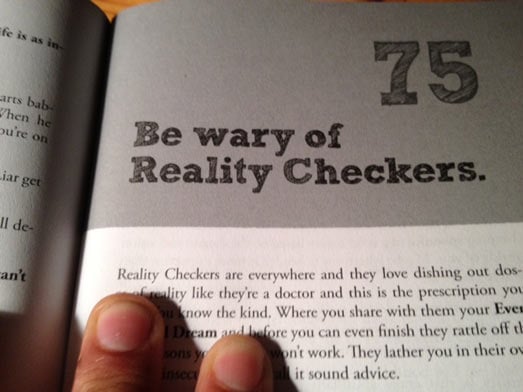 God bless them, they're just trying to give you a dose of reality to save you the pain of making a mistake, or so they say.
Well yes, God bless them–because sometimes the only things worth pursuing are the things way beyond what we're capable of. Where it's 100 percent guaranteed we'll make Hummer-sized mistakes to make anything happen.
I'm not saying don't take advice. Sure, sometimes we need some plain good sense. Sometimes we need that wild old sage to get all sage-like on us.
But that's not Reality Checkers game. No, you'll know you've been Reality Checked when you leave the conversation feeling like you've been slammed against the boards by a 250-pound Russian hockey player named Pavel.
Instead of Pavel the Reality Checker, give me the person who's going to take in all the insurmountable facts of my dream and tell me, "That's awesome. Heck, I say you go for it! What do you have to lose?"
Nothing. You have nothing to lose. Reality Checkers want you to believe that your plans will fail. And you know what, they're probably right.
But the point of life is NOT to not fail.
To read the rest of Secret 75 from my book 101 Secrets for your Twenties, click here to head on over to Jenny Blake's Life After College where I am contributing today.