Today I am honored to welcome Jacey Verdicchio to All Groan Up. Jacey loves good books and deep conversations. You can find her on her blog, The Balanced Wife, where she pursues exceptional living and often falls short. She lives with her husband, Michael, and dog, Jack, in Charleston, SC. Follow her on Twitter here.
Since my engagement at 20, I've absorbed the subtle and overt arguments for later marriage. Our culture is shifting to favor later marriage: only 21 percent of millennials (those ages 18-29) are married, and the median age (27 for women and 29 for men) is higher than the three generations prior.
I realize that many people wait for valid and myriad reasons. However, as someone on the early side of the marriage bell curve, I also see unacknowledged value in young marriage. Here are four common objections to young marriage from the perspective of someone who did it anyway: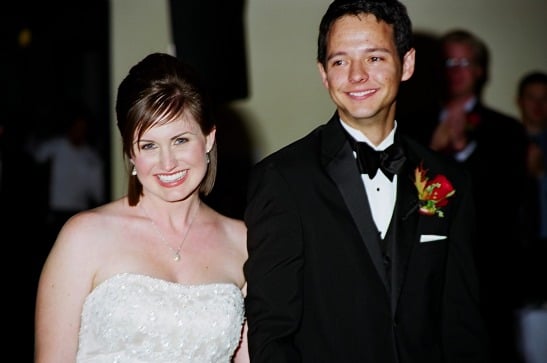 1. You are giving up too much
Making huge life changes, like moving, to accommodate a partner's dream or career is sometimes viewed as a tactical error. This level of sacrifice, especially at a young age, seems to some a naïve oversight, sure to breed resentment later.
In reality, marriage requires sacrifice from both people on behalf of one another, every day, no matter their ages. When I moved to marry Mike, it was a worthwhile sacrifice, and I knew he would sacrifice for me in the future. Considering Mike and how my decisions affect him has kept me grounded during what may otherwise have been a self absorbed, self-serving stage of my life.
2. You should establish your career first
Pulling late nights to get ahead may be less feasible when a spouse wants to see you for dinner, but a supportive spouse can also be an X factor at work. Knowing the person you care most about has your back makes it a lot easier to face interviews, sales calls and tense meetings. Zig Ziglar used to call it the "home team advantage." The 20-something years, marked by upheaval and rapid change, can be stabilized by a consistent, loving spouse.
Mike's belief in me has helped me grow professionally beyond where I'd be without him. Our individual goals fit in a larger picture of combined goals, so we spur each other toward them. We've helped each other on a practical level by making professional introductions and referrals, since we have two networks to draw upon.
3. You need to be on your game financially
Money problems are the number one cause of divorce in the U.S., so premarital financial planning is a wise and important step, but being on the same page about money is more important than how much you have.
Arguments against young marriage for women often cite research showing that women who marry after 30 make more money over their lifetimes. Sentimental as it may be, who wouldn't trade any amount of money for an extra five or ten years with her spouse?
There are some financial upsides to early marriage as well: operating one household is less expensive, and two incomes allow you to pay off debt and grow long term savings more quickly. In our case, my income helped Mike finish grad school and subsequently his has allowed me to make more risky, strategic career choices than I could if I were supporting myself with one income. Though maturity and commitment are prerequisites for a successful marriage, a perfectly crafted and established life is not.
4. You change too much in your 20's to know what you really want in a partner
We change so much during our 20's. Is it wise to make a marriage commitment when you'll be a different person in five years, or even six months?
My husband and I will celebrate our fifth anniversary this year. We have both changed dramatically, but we are still in love and thrilled to be married. Mike has shined a light into some of the places in my heart I wouldn't have found on my own during this time of massive change. Constant communication and connection have allowed us to grow together and to keep our priorities on the same page, even as some have changed.
Since we married early, years sprawled before us on our wedding day, leaving plenty of time for travel and self exploration. We've had a chance to grow up together before raising our own kids. During this turbulent, jarring adjustment to adulthood, my marriage has provided the most secure, happy part of my life.
[box title="Snag the 21 Secrets for your 20s eBook! For Free." color="#FF0000 "]
[/box]