The only reason for time is so that everything doesn't happen at once." – Albert Einstein
How would you describe your 2014 in one word?
I'd describe mine as paradoxical. It was one of the most amazing, yet intense years of my life. Lots of change, growth, intensity, and fun! How about you? Let us know in the comments section on this article.
To celebrate 2014, here's a list of the top seven most viewed posts on All Groan Up in 2014. Check out the ones you missed and revisit your favorites. Thank you again for all your support and for sharing these articles with your friends. I couldn't do any of this without you.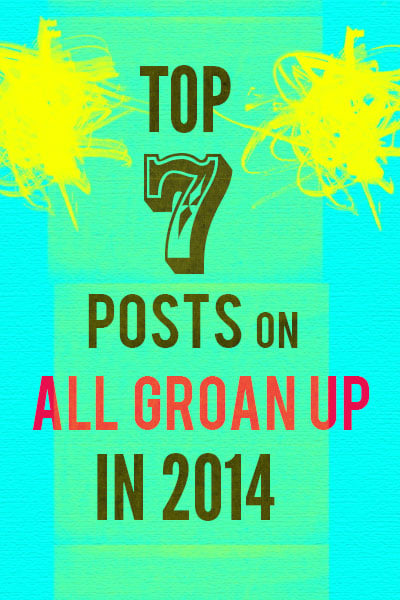 7. 11 Questions Every Twentysomething Needs to Ask 
Answering these questions would be a great way to start off your 2015 with intentionality and purpose.
A hilarious and all-too-true list of the top problems unique to twentysomethings. You know you're a twentysomething if you're not where you want to be, but you're not quite sure where you want to go.
Watch the stop-motion video of the top twentysomething problems (as shown by eggs) that I was able to create with Moody Collective in 2014. 
5. Benefits of a Having a Quarter Life Crisis
Maybe a quarter life crisis is the best thing that will ever happen to you. Here's why…
4. 9 Questions You Need to Ask When Dating
A must read for anyone wondering "is this The One?"
3. Top 21 Books for Twentysomethings
Another great resource if you're looking for transformative books for your 2015. All 21 off these books played a huge role in my twenties.
2. 25 Signs You're Having a Quarter-Life Crisis
If you can say "yes" to half of these, you might be going through a turbulent twentysomething transition.
And the most viewed article in 2014 was…. 
21 Secrets For Your 20s wins the award for the most viewed article on All Groan Up for the second straight year. If you haven't had a chance to check it out or my book 101 Secrets For Your Twenties, now is your chance.
Let's Rock 2015
Here's to the most fulfilling, purpose-filled year of our lives! And as always, I'm here to help. If there's anything you'd like to see more of on All Groan Up in 2015, let me know through the Contact form at All Groan Up, replying to this email, or leaving a comment in this article.