My day had resembled Hell's second cousin — drama and politics at work. Crying babies at home. My wife and I both so exhausted and stressed that just one wrong look at each other could start WWIII.
So at exactly 9:15 pm, I was going to do it.
I'd made up my mind.
I was going to devour a piece of cheesecake. Heck, probably even two. I deserved it.
But with cheesey-goodness on my plate and excitement trembling through my fork, I made a huge mistake. I glanced at the Nutrition Facts.
35 Grams of Fat. THIRTY-FIVE-FREAKING-GRAMS.
And with all 35 grams looking up and telling me, everything will be OK once you take that first bite, I had an epiphany. A slap-across-the-face-realization that compelled me to put down my fork and seriously re-think how I make decisions. Both cheesecake and non-cheesecake related.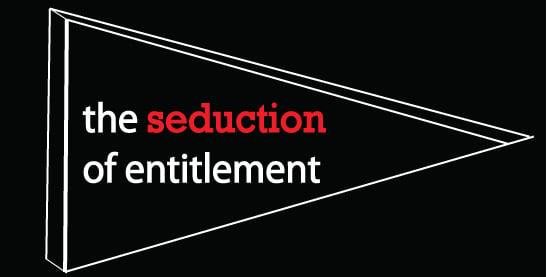 What 35 Grams of Fat Taught Me
I definitely "deserved" that piece of cheesecake. I'd earned it with my crappy day. But I realized at that moment — the piece of cheesecake didn't care.
All 35 grams of fat, sitting together smoking cigarettes as they waited to be deployed to do their job, didn't give a Jenny-Craig's-behind that I had a lousy day. The 35 grams of fat didn't care that I "deserved" to consume them.
No, once I ate the piece of cheesecake they were going to do what they do best — fill my love handles to resemble the tube of cheese from whence they came.
Good day, terrible day, eaten with a fork or eaten with a spoon, none of it mattered.
But, I Deserve It…
Fork resting on my plate, I started thinking of all the times I live by, "I deserve it".
I deserve to act like an a-hole after the terrible day I just had. 
I deserve to watch TV instead of play with my two-year old.
I deserve to surf the web at work after that brutal meeting.
I deserve to complain from the mountain tops about a crappy economy, lack of opportunities, and the hard-road that so many twentysomethings are struggling on.
I, we, deserve it, dammit!
Entitlement. You Sneaky Son of a…
Entitlement is a sneaky, sexy, seductive trap.
It lures you in. Rubs your shoulders. Gives you big pieces of cheesecake. Tells you to let it all out. Because of course you deserve it.
But entitlement is a trap.
Entitlement convinces you that somehow you've "earned the right" to make one huge mistake after another. But a mistake is a mistake is a mistake…
Your waistline doesn't care about your terrible day that prompted you to binge.
Your credit card company doesn't care that you deserved those three new pairs of boots. And those designer jeans.
Your hangover doesn't care that you deserved to get smashed after the awful week you just had.
The person reading your resume doesn't care how expensive your degree was and how much you deserve this job.
Entitlement lies to you that somehow you're owed something that you never paid for. Like walking into a bank and expecting them to give you money just because you showed up.
Entitlement is One Ugly Monster
Have you ever spent time with a friend or family member who wears entitlement like a scarf? Who makes it clearly known that they deserve X, Y, and ample amounts of Z.
And do you feel compelled to give them that thing that they "deserve"?
Nope. Probably not. Most of the time you'll do everything you can to keep it from happening.
Because when we act like the world owes us something, the world finds funny ways to give us even less. People who make a difference in this world don't act like they deserve to make an impact. No, they just make one.
Entitlement is a seductive trap. But in the end, it will always leave us wanting more cheesecake.
—