I cringe at the thought of All Groan Up being called a "Christian" blog — even though I'm a Christian.
Once All Groan Up is a "Christian" blog I have this looming fear that I'll have to stop being creative, sarcastic, funny, and snarky. I'll only be able to tweet in Bible verses. Have to write Praise Jesus!! (with two exclamation points) on a more regular basis. Have to tell every one God Bless You when responding to comments. And will have to set aside an hour a night for long, drawn out religious debates on my Facebook Wall.
I don't have a problem with being a Christian. I just struggle with how "Christian" is sometimes applied.
(Exhibit A: "Wheat Jesus" below. A picture of a billboard I snapped next to a Kansas freeway).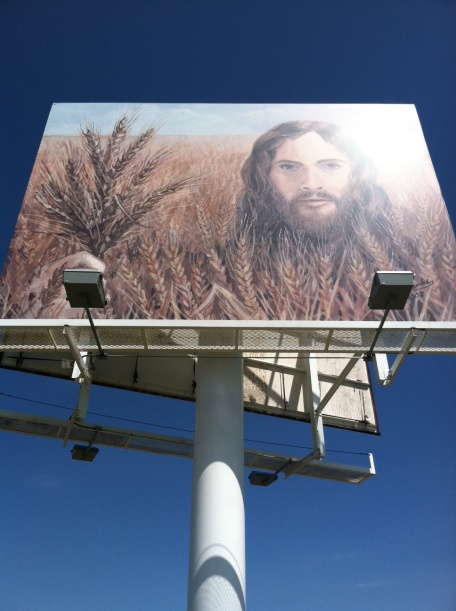 The Many Faces of Christianity
The title of Christian is laced with so much baggage, preconceptions, politics, joys, pains, gag-reflexes—you name it—I'd rather not even use the term lest you lump me in with your definition of the word, good or bad.
We try to make this being a Christian thing into a list of the do's and don'ts lest you be sent to hell. And yet it doesn't seem as… one, two, three… as it did in Sunday School. When faith involves a lot more fury and furrowed brows, than love and laughter, well we have a problem.
Coming out of the Closet
It's hard to come out of the "Christian Closet" these days, that's for sure. But I have this sneaking suspicion that those who are the really "Good Christians" are sometimes the really bad, and the "Bad Christians" somehow end up looking more like Jesus, which I guess really makes them actually quite good.
A True Christian Blog
So what's a true Christian blog? If I had to put a label on it — it would be a creative, honest place where we're not afraid to write about those dark, smelly, secrets we all hide and then transform them with beams of hope and Jesus-Scented Air Freshner (a scent that's kind of sweaty-sandal, mixed with red grapes).
A Christian blog would be a place that allows hope and truth to shine through words without even needing to write one single Bible verse.
And to that, I say maybe a Christian blog is not that bad after all.
Have you ever struggled with faith stereotypes?