LIGHTS…CAMERA…
Cue a 26-year-old male. Brown hair parted to the left with a face that both mothers and daughters can agree on. He's getting ready for his work job selling advertising space for a mid-sized website.
Let's call him Peter.
Peter grabs a light blue dress shirt, snapping it in the air a few times. He doesn't remember exactly when he stopped ironing his dress shirts before work. It wasn't a conscious decision. He just grabbed the iron one morning, stared at it for a few moments, and put it back in the closet.
In the grand scheme of things, wrinkles just didn't seem worth the time.
An A- student in college and the editor-in-chief of the university newspaper, Peter had big plans as he crossed the graduation stage to be a journalist, maybe an editor, at the city newspaper. His dream was to write stories that matter, to highlight the good going on in the world instead of the bad.
Everyone knew Peter would make it.
Through a friend's dad he was able to land an internship. He worked hard, started getting a few small assignments… He could see some light breaking on his dream. He even landed his first big interview with the mayor.
Then, his whole department was laid off.
Cue Peter, scrambling to find a job anywhere. Cue Peter, selling advertising space instead of sharing stories that can change the world. Cue vague memories of the last two years, each day blending together in a kaleidoscope of monotony.
The Looming Question
Peter can't really complain about his job. Oh, he used too. Every day. But not now; he's settled in. He has a good wage. He gets good hours. He works for a good boss. He sits in a good corner cubicle and if he leans backward far enough and to the left, he can just see the window and the top branches of an elm tree. His dreams of being a journalist have slowly died. But his 401k is alive and well.
But as he loops his tie this morning and cinches the knot, his hands stop. He stares into the mirror, his eyes locking like two spies trying to tell if the other is lying, or telling the truth. Then THE QUESTION hits him. The one that he's been avoiding. He wants to run from it even now, but it's caught him like a tuna in a net.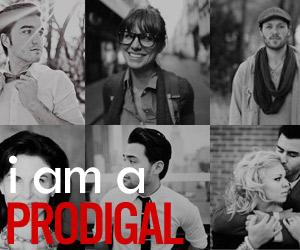 What am I doing with my life?
To read the rest, please venture on over to Prodigal Magazine where I have the honor of being featured today.  I promise you won't regret it. If you do, I will give you your three minutes back.