For the first time in three years it's been eerily quiet around here at All Groan Up.
And I apologize.
But I'm back! I'm better than ever with some exciting announcements! And I want to make it up to you.
But first, why the prolonged silence? What happened?
Well it hasn't been one thing, but a few different ones coming together all at once, kind of stomping me in my tracks. As you yourself pursue your dreams and push yourself, maybe you can relate.
1. Needing to Relight the Candle
After three years of growing All Groan Up, mixed with working a full-time job, having two kids, launching a book, traveling to speak, and now going full-time with my own business, I not only burnt the candle at both ends, I sold the candle at a yard sale and was trying to track it down.
I've been intentionally trying to help others while forgetting to help myself. Sometimes we can become so focused on pursuing something we love that we lose sight of how to best love those around us and ourselves.
Well I've found my candle again and the wick is ready to dance.
2. Needing to Re-Vision
I want to add more value to your life. Be a better resource. Provide more encouragement, inspiration, and humor. Offer a place for more community. Be able to strategically help you live your life with purpose and intentionality in a way that goes deeper than blog posts.
So I've been dreaming, researching, seeking advice from those smarter than me, and moving towards the next big things here at All Groan Up.
And I can safely say, the re-vision is here.
I'm really excited about the new things coming and I think you will be too. For example…
3. Working on some BIG PROJECTS!!
Behind the scenes I've been busy and a few of the projects are already done.
First, check out the newly designed AllGroanUp.com, rejuvenated with a clean, crisp, modern look. It's the first time I've completely designed a website from top to bottom all by myself and I'd love to hear how you think it looks.
I'd been running on the same framework for three years and now it will be easier to leave comments, navigate, and enjoy.
If you're reading this through email, come on over and check out All Groan Up 2.0.
Second, after three years and many requests from you, I finally have my first ever All Groan Up Store!
You can find a whole new line of inspirational photo prints and typography prints designed by me, giving you encouragement to thrive, create more, and live life like you mean it. Here are links to a few of my favorites. Life is Art, Dream – Lamp and Sky, Like We're "Supposed To," and "Do it Big or Do it Small."
Snag these prints on standard photo paper, or the best part, printed directly on wood or metal! They look really cool with a half-inch wood or metal border around the photo and come ready to hang up on your wall. Here's an example of a metal and wood print below.
Close-Up Photo Print on Wood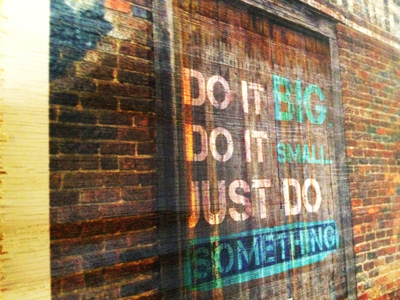 Close-Up Photo Print on Metal
These inspirational photo prints would make a great Christmas gift. Snag one of these prints at the special introductory prices. (introductory prices through Nov. 25).  
Plus if you order before Nov. 25, enter the coupon AllGroanUp to receive an additional 10% off.
Also I'll randomly select a few people who purchase wood or metal photos and send them a free copy of my book 101 Secrets For Your Twenties.
More Free Gifts and Excitedness Coming…
Stay tuned here at All Groan Up for some more REALLY EXCITING ANNOUNCEMENTS in the next few months. I've been working on some big projects that I'll be able to talk about and offer you really soon! (hint: it's big!) (double hint: one of them might be my second book releasing this spring…)
Then as well, I'm working on a fresh new resource to help you conquer your twenties that I will be giving away FOR FREE only to All Groan Up subscribers. (The rest of the world will have to pay. Suckers.) Also be ready for more giveaways and gifts this year, so you won't want to go anywhere.
This is going to be the biggest, best year ever at All Groan Up and I hope in turn, for you as well.
I can't thank you enough for the amazing encouragement you've always given me . It's emails from you and social media shout-outs that inspire me to create and do more. I wouldn't be where I am today if it wasn't for the community here at All Groan Up and I'll never, ever forget that. Thank you. We're in this together.
I'd love to hear from you in the comments section on All Groan Up. Come on by and say hello.