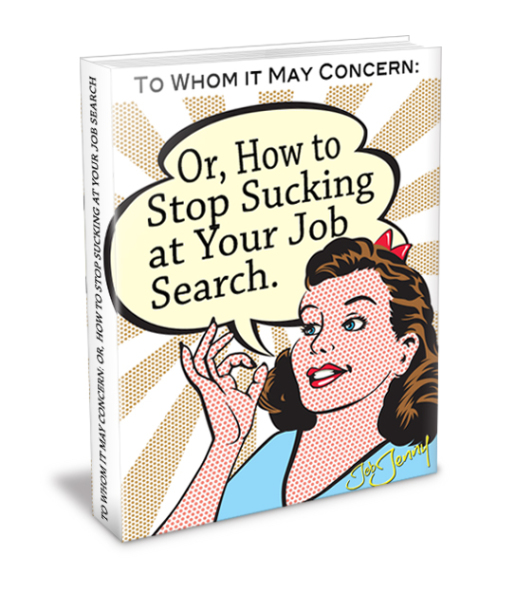 For a long, long time I was an Unemployed.
A terrible, awful, miserable Unemployed.
I won't say exactly how long I was such. Just that it was longer than William Henry Harrison's term as President and shorter than James Garfield's. (Thank you Wikipedia.)
At first, being an Unemployed can be a tad exhilarating. The world is your oyster, chalk full of pearls consisting of the $100,000 corner office jobs with a city view. So you throw out a few resumes like Snicker bars to six year olds, sit back, and just wait for the job hiring world to just eat them up. Both hands. Face first.
But then…
Flash forward three weeks…
It's 2:30 PM. On a Tuesday….
And you're prostrate on the couch, watching that Saved by the Bell DVD set you secretly own, getting angrier with every episode because how can Screech be on television for ten years and I can't even get hired at Starbucks!!! Where's that bottle of wine! (I might be speaking from experience here.)
Unemployment makes the cubicle job look like Disneyland.
To Whom it May Concern: Or How to Stop Sucking at Your Job Search
Cue Jenny Foss aka JobJenny aka her e-book To Whom it May Concern: Or How to Stop Sucking at Your Job Search aka Your Ticket Out of this Freaking Mess. (cue Superman theme music and July 4th firework display).
To Whom it May Concern is this quasi-magicial, tangible, strategic game plan to not only help you get A job, but THE job with steps that YOU CAN take the moment you peruse the first page. As the head of her own recruiting agency for the last seven years, Jenny's job has been to find the you's and me's jobs, thus why her e-book is chalk full of gold.
"Gold. Them thar's GOLD!"
Passive vs Active Job Search
The core golden vein of JobJenny's book is how to take your job search from passive to active.
When I was unemployed I set up my tent, made a fire, rolled out my sleeping bag, and made camp in the passive job search. This consisted of ridiculous amounts of smores AND submitting resumes and cover letters blindly through job boards, praying with each Submit that somehow this would be the one.
My prayers were never answered.
JobJenny puts the reins back in your hands and shows you easy steps you can take right now to rock the job search process like Nickel Back at the Kansas State Fair.
JobJenny…
– Unpacks LinkedIn and explains step by step how YOU CAN leverage this amazing social media platform to help you land THE job.
– Explains why and how Facebook and Twitter can go from updating the world on the whereabouts of your cats Socks and Mittens to how YOU CAN land yourself THE job. JobJenny explains one specific Facebook strategy that is so creative and effective that you'll have to sit back with a big WOW on your face.
– How YOU CAN write "Ridiculously Awesome" resume and cover letters.
– And more Awesome….of course…because that would be a short book…
Your Job Search BFF
So srrrrriously. Go buy To Whom it May Concern: Or How to Stop Sucking at Your Job Search. Triple Stamped Srrrriously. For yourself. Your spouse. Your friend. The guy who has been sleeping on your coach for three months.
And to run the risk of going all infomercial on you, if you buy the book before Friday, July 15 at 11:59 with the code ALLGROANUP50 you will get 50% off. I majored in Communication Studies, but that's math I can do.
Don't let unemployment pull you down (like it did me) into the sinking quicksand of the drug test group listed on Craigslist, which might or might not help you grow a sixth finger on your left hand. Jenny holds a lifeline with every page and all you have to do is hold on and start pulling. So go ahead you Job Search Tiger you. Click here to start rockin' the job search
(And yes if you do buy the book, I will get a cut. But srrriously I would not recommend something that I didn't feel A. Passionate about. B. Was srrriously worth buying. Triple Stamped Srrrriously.)