For the last few weeks months I've been more anxious than a Cocker Spaniel on coffee.
And I've been trying to figure out why.
I mean, I'm living the dream, right?
I saw a ten-year struggle finally come true with the release of my debut book.
I left my comfortable 8-5 job in marketing to pursue being a full-time author/speaker.
I've been fortunate enough to speak at some amazing places, connect with wonderful students/twentysomethings along the way, and even recently took a trip to Vancouver to be filmed in a documentary.
I'm literally living the dream I fought through ten years of dead-ends to see happen.
So, why now? Why is anxiety cascading through my body like a rogue helium machine is filling me until I explode?
While sitting in a conference a few days ago, the full problem and then the answer, finally hit me. And since this realization, anxiety has not been able to make itself at home in me. The answer has had a profound impact on my day to day. And if you're feeling anxious right now, this might just be the answer you need as well.
First, The Problem
The last few months no matter how much I accomplish or how much progress I make, it never feels like enough.
There's always another…
– email to send
– page to write
– call to make
– website to review
– box to check
I need more pageviews on my site. Higher sales rank. More Retweet's. More Likes.
More.more.more.more.more.moooooooorrrrrreeee!!!
When you're chasing a dream, your legs never stop moving.
When you're building a platform, there's always another brick you need to lay down.
But when is enough, enough?
When you're putting yourself out there, its hard to know when to take a break from the front-store window.
How do you keep your wick from being burnt at both ends and then dosed with gasoline?
Now, The Answer
I got the answer while sitting at Donald Miller's Storyline Conference, which was great by the way and I'd definitely recommend. But at conferences I have the propensity to become a bursting anxiety-ball, letting other people's amazing stories tempt me to feel like crap about my own.
So as we were led through a time of meditation before a session began, I knew I needed to enter in.
We closed our eyes and were asked to visualize ourselves following a trusted guide up a mountain trail. As I saw myself hiking up, I could feel the weight of the anxiety I was carrying with me. The guide then led us up to a cabin and as he invited us to step through the door, we were told that the cabin was our heart. In the cabin I opened a door that I'd been refusing to go in for far too long and the guide quietly followed behind me. I felt a sense of peace as I entered the room, then I turned and looked at the guide and he said to me three words that hit me like a peace bomb:
You Are Enough.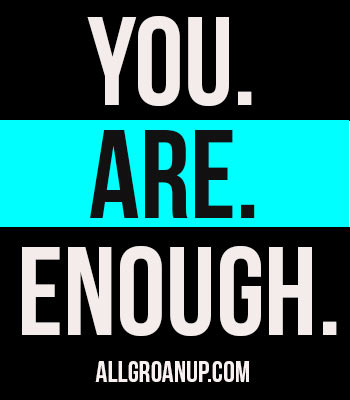 That was it.
And standing in the cabin staring at the guide's face, I began to cry. The guide stared at me, face grizzled and worn from years on the trails, and he let the tears fall with mine.
You are enough washed over me like a warm bubble-bath.
Peace gave my heart a well-needed hug. I'm a faith guy and I needed the reminder that at the core of the gospel message is you are enough .
So much of my value was coming from the ebb and flow of success, when who I am needed to be anchored in the fact that I am enough. No matter what.
Accomplishing less or more will never be able to sustain me. 
And maybe today you need to hear this as well.
No matter your success or failure.
No matter your job security or insecurity.
No matter your relationship status.
No matter your shame or your secrets.
No matter what you've done or what is left to do.
No.matter.what. You are enough.
Don't let anxiety warp what you've done by constantly reminding you what you need to do.
If you're not secure with less, you will be crushed by more. (tweet that)
When you're clawing and scraping and hustling, it's hard to know when the most productive thing you can do is nothing at all.
Chase your dreams. Don't let your dreams chase you. (tweet that)
Right now. Where you sit. You are enough.