It's July 1st, which means 101 Secrets for your Twenties is now available for sale wherever books are sold! 
Here's the link to 101 Secrets f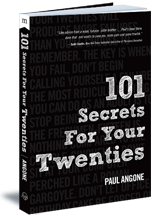 or your Twenties on Amazon and Barnes and Noble.
Please go buy a copy. Heck, buy a baker's dozen. Buy one for your sibling, neighbor, boyfriend, wife, favorite Starbucks barista, etc.
Snag 101 Secrets for anyone you like because buying them this book will make them like you more.
101% guaranteed.
And if you do buy a print copy of 101 Secrets for your Twenties this week, I want to give you the 101 Secrets expanded ebook with bonus secrets, digital prints, stickers, and the chance to win $80 worth in gift cards and a Kindle Fire or iPad mini, thus totaling more than $639 of free stuff.
Sound like a fair trade? Keep on reading to see the full details.
First, I Need Your Help
It's only because of this amazing Groan Up community that this book is even happening. This is your book as much as it mine (OK maybe it's like 70-30).
Now I am asking for your generous support in sharing more than ever.
What if we got this book into the top 101 books on Amazon today?
For years publishers told me they liked my writing, liked my message, but then would quickly follow up that twentysomethings are fickle and don't buy books. Let's prove them wrong.
Snag some of the tweets, email blurbs, images below and in less than two minutes you'll make a huge impact in my life, the life of this book, and most importantly in the life of someone who needs encouragement.
Email/Facebook Blurb
I'm very excited to announce that Paul Angone's book – 101 Secrets for your Twenties hits bookstore's everywhere today! 101 Secrets for Your Twenties will encourage, inspire, prompt a plethora of LOLs. You seriously need to buy this book. Multiple copies.
Tweets
If you're a twentysomething, you need to snag 101 Secrets for your Twenties by @PaulAngone http://bit.ly/101-Secrets #101Secrets
Secret #6 – Life will never feel like it's "supposed to." Check out @PaulAngone's 101 Secrets for Your Twenties http://bit.ly/101-Secrets
101 Secrets for your Twenties is the perfect read for #GenY #Millennials http://bit.ly/101-Secrets
101 Secrets for your Twenties by @PaulAngone is hilarious, insightful, and impactful. Buy. Now. http://bit.ly/101-Secrets #101Secrets
Shareable Images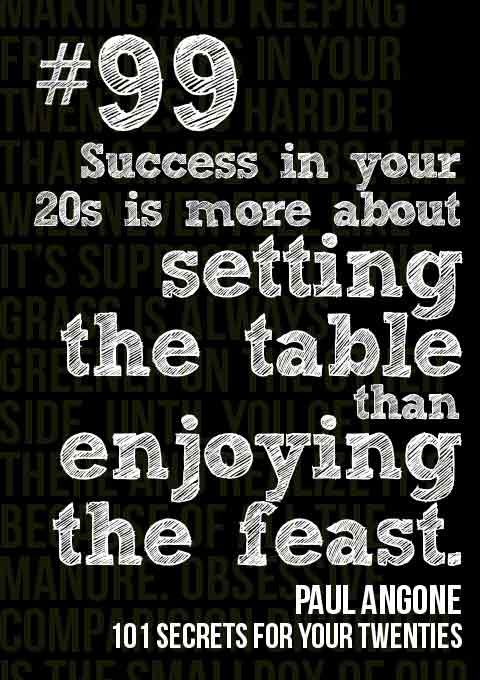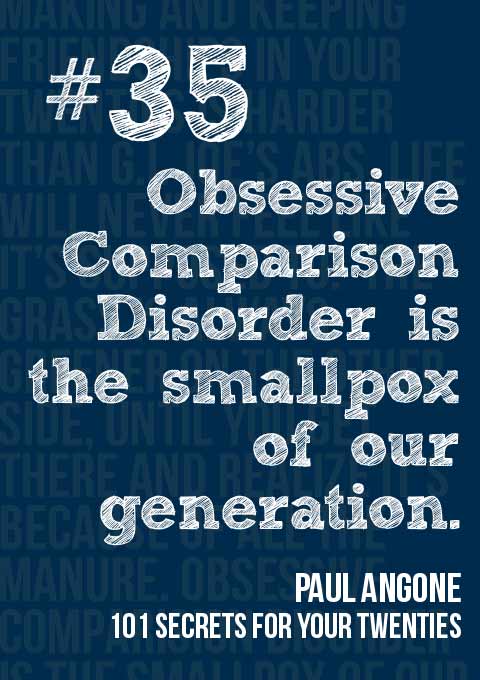 Win 101 Secrets Prizes Worth up to $639
Then as well, if you purchase the book and email me your receipt at paul[at]allgroanup.com (Amazon receipt, picture of physical receipt) before July 10th, I'll personally send you:
Expanded 101 Secrets for your Twenties eBook with bonus secrets (releasing and sent later this month).
Three digital secret stickers to print for your iPhone, etc.
Two digital 8×10 secret prints
Exclusive access to me for a 45 minute online webinar where I will talk about the secrets to rocking your 20s, writing, secrets to getting published, creating an online platform/brand and any other questions you have. (Time and Date: Sometime in August)
And then for every book purchased that you send me the receipt for, you'll be entered to win one of four Twentysomething Survival Kits that consists of:
Two extra copies of the book to give to friends so they know they're not alone (Secret #32)
$15 Starbucks gift card for members of any coffee quadrant (Secret #30)
$50 gas card for the road trip you need to take to fix everything (Secret #28)
$15 iTunes gift card for the purchase of non-sad songs only (Secret #65)
Then one lucky person of the people to send in a receipt will be chosen on July 11th to win the GRAND PRIZE: A twenty-something survival kit + Kindle Fire or iPad mini to help build the brand that is you (Secret #23)
Winners will be announced, by July 11th.
Share the Secrets
It's been an eight-year dream to see this book happen. I can't thank you enough for your help, support, and encouragement along the way. And if I ever have the pleasure of meeting you in person I'm thanking you with a great big hug. Too much? Maybe a handshake then?
To recap:
Encourage people to buy 101 Secrets for your Twenties through social media, blimps, carrier pigeons, whatever means necessary.
For each book you buy this week in which you send me the receipt at paul[at]allgroanup.com you will win some sweet stuff, with the chance to win a Twentysomething Survival Kit and possibly even a iPad mini or Kindle Fire.
Not convinced on the 101 Secrets for your Twenties hype? Don't take my word for it. I'm biased. Check out some of the reviews that have already hit the Interwebs.
This book is part humor, part pearly-wisdom pearls, and part field manual, and I think it has the potential to offer heaps of encouragement, hope, and Laugh-Out-Louds that can't be contained.
Help me share these secrets! I can't do this without you.