Note from Paul: Today's post come to us from the talented Joe Bunting who wants to write fiction and non-fiction books when he's all groan up. Thus, he is writing and teaching other people to write over at TheWritePractice.com. (Love me a pun!)
Photo Credit: Steve Jurvetson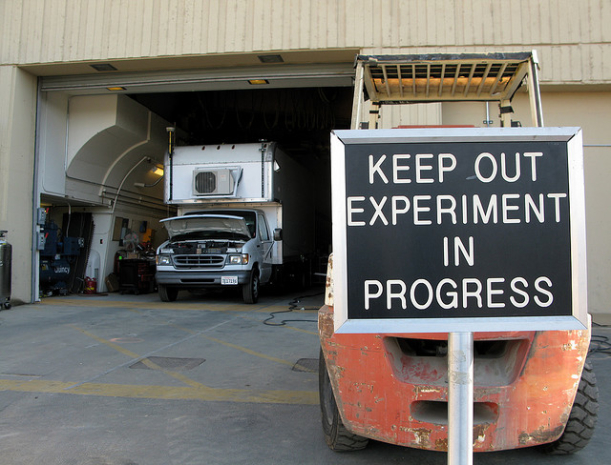 We are the uncommitted generation.
They told us our twenties are a time for experimentation. They said, go out there into the big blue world, make mistakes, and have fun. You've got lots of time, they said. Don't commit to a career, a marriage, a lifestyle, until you've explored your options.
It's what your twenties are for, they said.
It's what I wish I could have done, they told us.
Go out and find yourself.
I'm going to tell you something different. Someone's got to.
Those people are full of it.
The Key To Effective Experimentation
It's true, you've got to make a lot of mistakes. Malcolm Gladwell famously said you have to put in 10,000 hours before you can be an expert in something. What that really means is you have to make 10,000 mistakes.
You have to make 10,000 mistakes to be an expert at yourself.
The problem is you can't make mistakes, and learn from them, until you commit to something. It's like a science experiment. Experimentation requires commitment.
First, you have to have a hypothesis. Like, I am going to be a doctor.
Then, you test your hypothesis. You take pre-med classes. You do an internship at an eye surgery clinic. You go on a medical missions trip.
My hypothesis: I am going to be a rock star.
So I tested. I wrote a bunch of songs and then I went to, rather, drug myself to perform them at empty coffee shops. I hated it. Hypothesis: failed. I was not qualified to be a rock star.
After awhile, I came up with a new hypothesis: I am going to be a writer.
I wrote some articles for a local newspaper. I started a blog. I travelled the world for eleven months and wrote about it. Now, I teach people some of the things I learned. At each stop, people said, "Wow, Joe. You're a pretty good writer."
"Thank you," I said. "I'm going to be one when I grow up."
However, it took commitment to get there. I had to pull myself away from the TV when I wanted to play Halo or watch movies with my friends so I could go write. I had to give up on some other really interesting options. I had to choose.
I had to commit.
Commit To These To Find Yourself
Here are five things to commit to if you really want to find yourself.
1. A Community.
Find a group of people your age who encourage you to be more than you think you are. You will become the person they believe in. Community is hard, but worth the commitment.
2. An Elder.
Find an adult willing to spend time hearing your heart, coaching you in your career and relationships, and giving you advice from their own lives.
3. A Date.
So many men I know are afraid to pursue women because they're not sure if she's the one. Of course, you're not sure! That's why you go find out! Call her up, or better talk to her in person (no texting please), and ask her the hell out.
4. A Cause.
There are millions of people in need right now. I've met them. Andrew, Nelson, John, they're living on the streets in Kenya, right now, motherless, fatherless. It costs pennies to give them a home. How can you sit on your couch and play Halo or go to the hair salon with this need?
5. A Dream.
It's one thing to dream of being a doctor, a rock star, or a writer, but what are you going to give the world? I dream of giving it beauty and meaning and a sense that, despite all, they are not alone. What do you dream of?
What about you? What are you committing to that will give the rest of us encouragement?