Have you ever felt stuck? Where you have all these big hopes and dreams inside of you, yet you just can't find the time, motivation, or opportunities to make any of them happen?
Is there some secret to getting unstuck and actually doing work you love?
Or is working one crappy job after another supposed to be our story?
That's a lot of questions! But thankfully I've got some helpful answers.
For years I've wanted to go deeper with the wonderful community here at All Groan Up to help you in a more substantial, meaningful way beyond what I can do through a blog post or even through one of my books.
That's why I'm excited to give you an amazing resource I've been working on for months — a FREE, 3-part video course called UnStuck: How to Crush the Things That Are Holding You Back.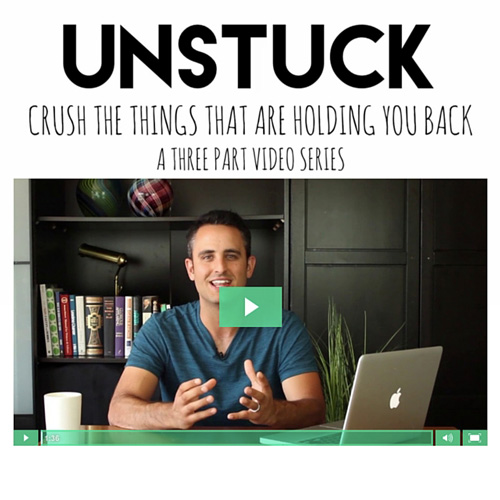 In this 3-part video course I share:
The most proven and effective secret to moving forward and making progress (and it's probably not what you think)
The 6 biggest lies we believe that keep us stuck
How to transform failures into your great successes
The 10 most important questions you need to ask to live a purposeful, significant, and profitable life.
The power of understanding and leveraging the "Pivotal Plot Points" in your life (especially the ones that didn't go as planned)
The secret to getting people to help you without even having to ask.
Plus, when you enroll for this free course you'll also get my ebook The 10 Key Ingredients to Finding Your Signature Sauce.
At the end of the 3-part video course you'll have the chance to snag one of the limited spots in my new, full online course Find Your Signature Sauce, which launches next week, giving you an action plan and going even deeper into finding where your passion, purpose, and career collide. Hundreds and hundreds of people have already signed up for the Signature Sauce wait-list and I'm extremely excited to officially open the doors.
Enroll now in this amazing 3-part video course to help you get unstuck and then be on the look out for the full Signature Sauce course opening next week. I usually charge $79 to attend one of my workshops to hear the information you'll get in this 3-part course, but I'm giving it to you right now for free this week only. So you need to go enroll in the Get Unstuck course now to watch the first video in the course, with the other two videos releasing throughout this week.
Unwedge yourself from stuckness. Move forward. Live on purpose with purpose.
Or stay stuck.
Please, don't stay stuck.
Let's do this!
Paul
PS – This free UnStuck video course is honestly some of the best work I've ever done. It's full of inspiration and insight, but it's only available for the next few days. Snag your spot now.