I think many of us envisioned walking into our twentysomething adult lives with all our ish firmly in place.
But just like getting that Pop Quiz when you didn't do the reading, you enter your 20s and realize you don't have any of the answers on the test.
Yep, being in your 20s is a lot like middle school all over again. The good, the bad, and the awkward.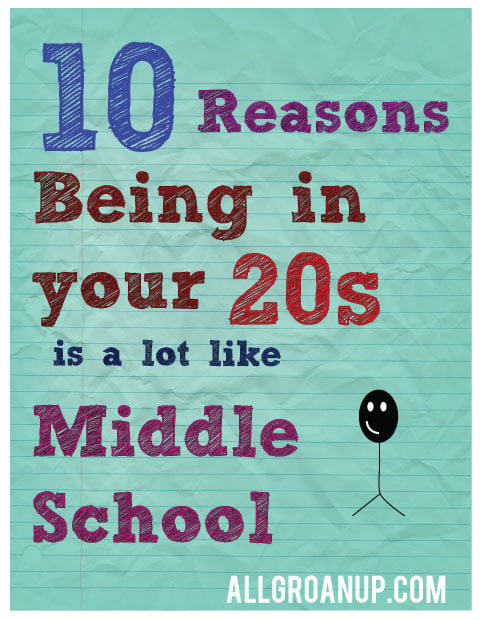 1. You Still Call in Sick at the Sign of a Large Zit.
We all know the feeling. When that painful spot protrudes from your nose like a miniature prairie dog is trying to burrow up through your pores. And bring his family with him.
God, if you'll please just vanquish this zit before it can sprout I promise I won't eat greasy food again. And I'll volunteer for childcare at church.
The details of this prayer might change a little from middle school to our 20s, but the goal remains the exact same.
I have a petition circulating to make it illegal for acne to exist after age 15. Once I get a 2.5 million signatures, I'm sending it straight to God.

2. Guys are Still Too Nervous to Ask a Girl on a Date
To be honest, guys might even be more nervous to ask a girl out on a date than when we were in middle school. At least in middle school you could only really venture as far into the world of dating as your mom's blue minivan could take you.
Now, dating, means, umm…well…do you want to grab some coffee? Do you want to hang? Grab a bite? Anything, but go on a date?!
Because is she into me? Am I into her? Is there potential here? Is there too much potential? Do I want there to be potential? What is the potential of potential?
Asking a girl on a date in your 20s is just as scary as walking across that gym floor to ask for a dance. And now the stakes, and eye-balls on you, feel even more intense.
3. You're Still Learning About Who You Are
You don't enter your twenties with the You-Instruction-Manual all written out. And as I step up to the edge of the Big 3-0, I can safely say you don't leave your twenties with all the answers either. Who you are is a life-long class and we will always have something important to learn.
That's why I'm so passionate about the new online course I'm creating to help people find their Signature Sauce, where your purpose and passion meet how to make money.
4. Your Body Starts Going Through Changes Again
Gray hairs. Wrinkles that appear out of nowhere like that dress shirt you just spent an hour ironing. Hair that begins to recede like a cowardly army.
As I write in my book 101 Secrets for your Twenties:
"Your 20s are about experiencing the first signs of Retroactive Puberty—just when you've become used to your body, it starts going through changes again."
5. When you Stay Home Sick You Still Watch Re-Runs of Saved by the Bell, Charles in Charge, and/or the Price is Right
Sure, Price is Right without Bob Barker is not the same (I know this as fact because I've hugged Bob Barker on the Price is Right stage, but that's a whole other story). Yet, Price is Right still holds a place in our home-sick-hearts.
And Charles in Charge of me? Amazing. Sure none of us quite understood why Charles was living there, and we still don't, but 30 minutes with Charles is still enough to take charge of any zit-prairie-dog or running nose.
6. Insecurities Are Still Just as Real and Dangerous
As I write in my book 101 Secrets for your Twenties:
"Just because you grow up doesn't mean you grow out of your insecurities. Sometimes, if you're not careful, you grow into them. Insecurities are like Swamp Things. Just when you think you've escaped, they rise up for a surprise attack."
Age doesn't end insecurities. Maturity does. Or so I've been told. (Gosh I really, really, really hope you agree with me. And I hope you "Like" this article before you leave. And we should totally hang out this summer. Like, for reals).
7. You Still Have no Clue What to Wear
Sweatpants. In middle school they were my wardrobe. Blue, green, brown, black, or purple, it did not matter the color. Pants that were designed for me to perspire in could make any shade of purple feel manly.
I'd then top off my outfit with something in the No Fear, Big Dog variety. My favorite Big Dog shirt was a dog wearing a cowboy hat, holding his bandaged foot, saying "You Shot my Paw". How Big Dog came up with such witty puns I hadn't a clue, but sweatpants combined with the power of Big Dog was unstoppable.
Yep, I'm just as clueless about fashion now as I was in middle school and probably just as self-conscious. Sure, I don't drape myself in purple sweatpants and Big Dog now, but gosh come to think of it, that might just be the hipster thing to do.
8. You Try to be One of Them, Instead of the Only You.
In our 20s there's still the cool kids. (And we still want to be invited into their group)
And now the cool kids have their online clubs with their hip "abreeves" and their posts/tweets of "Oh wasn't Vegas so much fun" or "Hella totes going to World Domination this year!"
Trying to bust into the cool twentysomethings club is just as frightening as walking up to that cafeteria table with a wobbling tray and a Sloppy Joe.
But you're better off, you tell yourself. You don't need their stupid exclusive online club. And yet you still find yourself trying to be one of them, instead of the only you.
9. You're Sleeping in the Same Bed
No, literally you're back in the same bed, in your old room, with the same dinosaur or princess bedspread that your parents never replaced. And you spend a night going through your middle school yearbooks while listening to the Weezer Blue Album or some such middle school CD.
10. You Still Wish You Could Fast-Forward to the Next Season of Your Life When You'll "Have All The Answers"
But gosh, if we're always wishing we could fast-forward to our future life, who's going to live our life right now?
Here's a twentysomething secret: we'll never have all the answers.
If we're always waiting to enter some future promise land, we'll miss all the cool trails we could explore right where we're at.
The future holds just as many questions, if not more, as today. Let's cross that gym floor and ask our life to dance right now. No matter who's watching and waiting to make fun of us, once we start dancing we won't even care.
I'd love to hear your thoughts about this middle-school metaphor below: Any of these especially ring true for you?
Did you chuckle whilst reading this article, or did you feel sick thinking about middle-school again?
And double Groan Up points for a shout-out to your favorite middle-school home-sick TV show or CD.