I have some exciting news!
And it's taken ten years to see this day finally come.
Today I announce the book that started this entire All Groan Up journey for me releases next month, April 21st with an amazing publisher Zondervan.
I present to you my new book All Groan Up: Searching for Self, Faith, and a Freaking Job!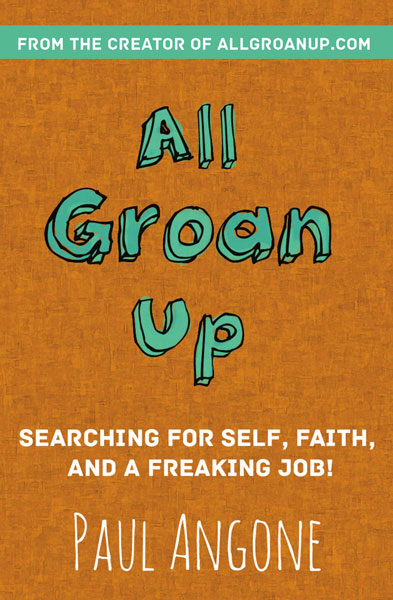 Why Should You Care?
I'm more open and honest in this book than anything I've ever written before, sharing the inside story of my struggle, disappointment, hilarity, confusion, and loneliness of the journey into and through adulthood.
Most of what I've written in this book I've only ever talked about with a few close friends.
I invite you into a story where I ask the big questions we're all wondering, but maybe are afraid to ask out loud – all with ample amounts of humor, hope, and juicy candidness mixed in-between.
Like when I tell the unbelievable story of how I met my wife and how love can come at our worst moment, yet still at the best possible time.
Or the story of when a wildfire barreled down towards my house and what happened next put me on the 10:00 o'clock news.
All Groan Up is my heart. But I believe it's also our story. The shared story of all of us who are searching for self, faith, and a freaking job! And I cross-my-heart-hope-to-die think you're going to love it.
But don't take my word for it. I'm biased! Here's what some early reader reviews and endorsers have to say about All Groan Up:
"I can't read this book in the library, bookstore or coffee shop because people might think I am going through a psychotic episode of laughing out loud! … This book is a breath of fresh air for 20somethings out there to know that they are not alone in the fight for an extraordinary life." – Olayinka
"Powerful, honest, heartfelt, and hilarious, this book is a must-read for anyone struggling to feel at home in their "groan-up" pants. If you're a twentysomething, or if you want to help a twenty-something, you need this book." – Megan Alexander, TV correspondent, Inside Edition
"Paul delivers each chapter with a witty sense of humor and more importantly with heart, soul and honesty. This is not a "how to" book nor is it about the search for "perfection". More profoundly its about relatability and unity for a generation building their own yellow brick road, instead of just following it." – Esther
All Groan Up is about when you fail at your dream, which leads you to your purpose. When you learn that God's grace doesn't need your achievements to be real.
The only reason I was able to push through ten years of failures dead-ends, and do-overs to see this book finally happen is because I so passionately believe in the hope and truth it offers.
Pre-order the book now and receive exclusive access to me and bonuses worth over $250…
The book comes out in a little over a month and honestly, I need your help.
If you've gotten any encouragement, hope, or inspiration from this community here at All Groan Up, I'm asking you to pre-order the book and tell friends (or strangers) to do the same.
And if you pre-order the book right now, you get the entire ebook immediately!
The whole book. Right now. Before it hits shelves in another month.
Pre-ordering the book is a huge deal for the success of the book because this encourages book-sellers like Amazon, Barnes and Noble, and retailers like Sam's Club (who have already agreed to sell the book! Big deal!) to order more copies of the book before the day it releases.
Pre-order the book at any of these locations and then go to the All Groan Up Book Page and enter your email to download the entire ebook.
Also if you pre-order the book, I'll also be giving you too many other bonuses to list worth over $250, like…
Exclusive access to me
Never before seen conversations I've been filming with world changers, entrepeneurs, and business leaders
Plus a few more surprises that I'll be revealing in the next few weeks
Thank you friends for your support and encouragement. Thank you for being a part of this authentic community. Thank you for joining with me to talk about the struggle and confusion of figuring out life beyond status updates.
Thank you for being All Groan Up.