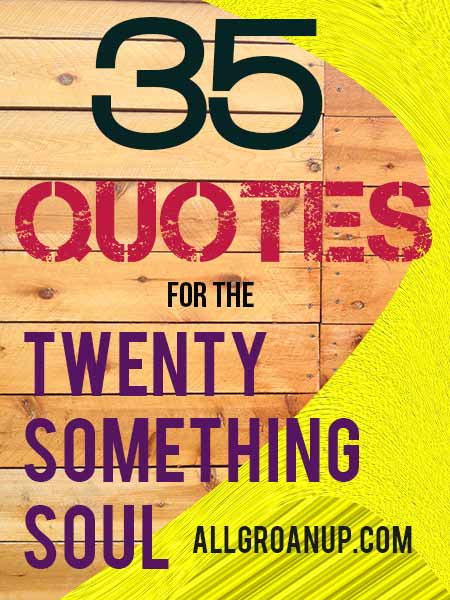 Twentysomething life is not as easy as it looks on the front of the brochure.
Here are 35 quotes to inspire, challenge, and encourage every twentysomething to live like we actually mean it!
35 Quotes For the Twentysomething Soul
1. "Twentysomethings who don't feel anxious and incompetent at work are usually overconfident or underemployed." – Meg Jay, The Defining Decade
2. "Accept who you are; and revel in it." ― Mitch Albom, Tuesdays with Morrie
3. "Some day you will be old enough to start reading fairy tales again." ― C.S. Lewis
4. "The future belongs to chefs, not cooks or bottle washers. It's easy to buy a cookbook (filled with instructions to follow) but really hard to find a chef book." – Seth Godin, Linchpin
5. "A man who fails well is greater than one who succeeds badly." – Thomas Merton, No Man is an Island
6. "I would rather be ashes than dust!
I would rather that my spark should burn out in a brilliant blaze than it should be stifled by dry-rot.
I would rather be a superb meteor, every atom of me in magnificent glow, than a sleepy and permanent planet.
The function of man is to live, not to exist." – Jack London
7. "Most people need love and acceptance a lot more than they need advice." ― Bob Goff, Love Does
8. "And in the end it is not the years in your life that count, it's the life in your years." ― Abraham Lincoln
9. "Life will never feel like it's 'supposed to…' If always trying to live like we're 'supposed to,' we're never going to actually live.  – Paul Angone, 101 Secrets For Your Twenties
10. "We delight in the beauty of the butterfly, but rarely admit the changes it has gone through to achieve that beauty."
― Maya Angelou
11. "Everything can be taken from a man but one thing: the last of the human freedoms—to choose one's attitude in any given set of circumstances, to choose one's own way." – Victor Frankel, Man's Search for Meaning
12. "The unexamined life is not worth living." ― Socrates
13. "On such a flat earth, the most important attribute you can have is creative imagination." – Thomas Friedman, The World is Flat
14. "Adhere to your purpose and you will soon feel as well as you ever did. On the contrary, if you falter, and give up, you will lose the power of keeping any resolution, and will regret it all your life. Take the advice of a friend, who, though [just met] you, deeply sympathizes with you, and stick to your purpose." – Abraham Lincoln, written in a letter to a young man about to quit college
15. "Art enables us to find ourselves and lose ourselves at the same time." ― Thomas Merton, No Man Is an Island
16. "Our twenties are about what we plant in the ground, not about what we harvest. We can't keep pulling our seeds out of the dirt before it has time to grow." – 9 Things Every Twentysomething Need to Know
17. "The place God calls you to is the place where your deep gladness and the world's deep hunger meet." ― Frederick Buechner, Wishful Thinking
18. "So many people walk around with a meaningless life. They seem half-asleep, even when they're busy doing things they think are important. This is because they're chasing the wrong things. The way you get meaning into your life is to devote yourself to loving others, devote yourself to your community around you, and devote yourself to creating something that gives you purpose and meaning."― Mitch Albom, Tuesdays with Morrie
19. "Fear isn't only a guide to keep us safe; it's also a manipulative emotion that can trick us into living a boring life … the great stories go to those who don't give in to fear." ― Donald Miller, A Million Miles in a Thousand Years
20. "It is not the critic who counts; not the man who points out how the strong man stumbles, or where the doer of deeds could have done them better. The credit belongs to the man who is actually in the arena, whose face is marred by dust and sweat and blood; who strives valiantly; who errs, who comes short again and again, because there is no effort without error and shortcoming; but who does actually strive to do the deeds; who knows great enthusiasms, the great devotions; who spends himself in a worthy cause; who at the best knows in the end the triumph of high achievement, and who at the worst, if he fails, at least fails while daring greatly, so that his place shall never be with those cold and timid souls who neither know victory nor defeat." – Theodore Roosevelt
21. "Our job in this life is not to shape ourselves into some ideal we imagine we ought to be, but to find out who we already are and become it." ― Steven Pressfield, The War of Art
22. "Success in your twenties is more about setting the table than enjoying the feast." – 101 Secrets For Your Twenties
23. "To be good, and do good, is the whole duty of man comprised in a few words." ― Abigail Adams
24. "Simple it's not, I'm afraid you will find, for a mind maker-upper to make up his mind" ― Dr. Seuss, Oh, The Places You'll Go!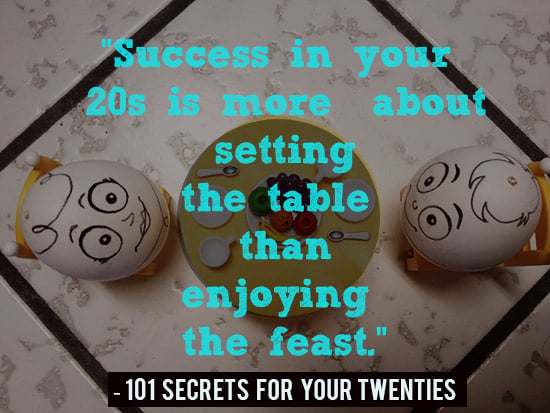 25. Most 20 something's can't write the last sentence of their lives. But when pressed, they usually can identify things they want in their 30s or 40s or 60s -or things they don't want- and work backward from there. This is how you have your own multigenerational epic with a happy ending. This is how you live your life in real time." – Meg Jay, The Defining Decade
26. "Oh my dear, you see, they forgot to teach you this in school.
But don't worry. We all go through it. Don't feel like a fool.
You need to find the right questions before you get to the answer.
Because life. Sometimes. Makes as much sense as the lyrics to "Hold me closer tiny dancer." – The Twentysomething Nursery Rhyme 
27. "All great deeds and all great thoughts have a ridiculous beginning." — Albert Camus
28. "As the darkness began to descend on me in my early twenties, I thought I had developed a unique and terminal case of failure. I did not realize that I had merely embarked on a journey toward joining the human race." – Parker Palmer, Let Your Life Speak
29. "Surviving your 20s is sometimes nothing more glamorous than just holding on for dear life on the back of an inner tube like a kid being whipped around by a speedboat…And your only choice of survival is to just let go." – Paul Angone, 101 Secrets For Your Twenties
30. "We don't look backwards for very long. We keep moving forward, opening up new doors and doing new things, because we're curious… and curiosity keeps leading us down new paths." — Walt Disney
31. "You can only become truly accomplished at something you love. Don't make money your goal. Instead pursue the things you love doing and then do them so well that people can't take their eyes off of you." ― Maya Angelou
32. "No matter how the movies make it look–being brave is not sexy.

Most people won't understand you. They'll just stare at you with disgusted perplexy.
You'll never know if you can do it if you keep trying to think it perfectly through.
Sometimes you have to put your thinker to rest, pack your bags, and just do." – Twentysomething Nursery Rhyme Part Two
33. "Greatness is not a function of circumstance. Greatness, it turns out, is largely a matter of conscious choice, and discipline."
― Jim Collins, Good to Great
34. The goal of life is not to live comfortably. Comfortable is a quicksand. You must keep moving forward or agree to sign the waiver that you understand the risk of being suffocated by perks, 401K's and "well hey, at least it's a job." – The Twentysomething Declaration
35. "Just never forget to be dexterous and deft.
And never mix up your right foot with your left.
And will you succeed?
Yes! You will, indeed!
(98 and 3/4 percent guaranteed.)"
― Dr. Seuss, Oh, The Places You'll Go!
The above links are affiliate links, so if you buy one of the amazing books linked above you'll also be supporting the work here at All Groan Up. Win, win!