Dear Great Recession, Thank you! Sincerely, Gen Y
Posted on April 3rd, 2012
Thank the Great Recession?!
You can kiss my loan-carrying, unemployed, bunking-with-my-parents-backside.
At least that's how I would've responded four years ago — when I was interviewing to be a used airplane parts sales assistant living on a diet of Top Ramen, angst, and what the heck now?
But now I believe the Great Recession was actually the GREATEST thing that could've happened to our generation. When the history books look back, it will see that Gen Y and Millennials experienced success because of the Great Recession, not in spite of it.
Let me explain…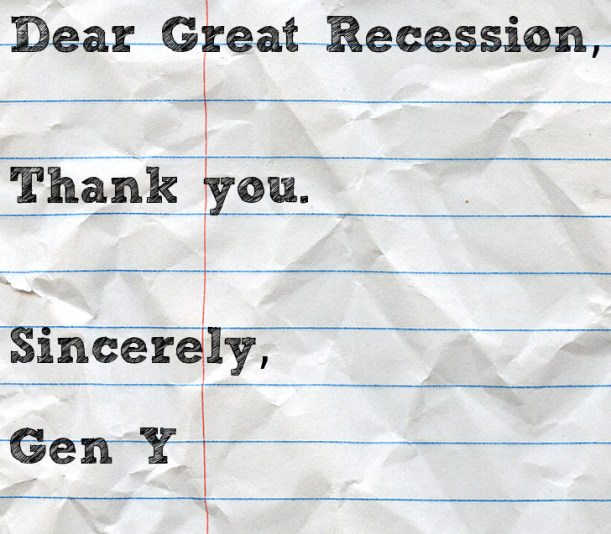 Two Reasons the Great Recession will make Gen Y Successful
1. Change or Die
Most twentysomething's have experienced a near decade of transition –  with more job and housing changes than a chameleon has colors. Change has been thrust on Gen Y like a blind date — we didn't want it, but through the experience we learned something important.
Change is Gen Y's normal.
As Professor Robert Quin writes in his book Deep Change:
"Change is hell. Yet not to change, to stay on the path of slow death, is also hell. The difference is that the hell of deep change is the hero's journey."
We've died a hundred times with every sent resume with no response, every hiring freeze or downsizing. We've had to change, morph, become better, more resilient.
The lack of a red carpet has forced Gen Y to find a different, better way to the party.
As the Fast Company article Generation Flux explains, "This is the moment for an explosion of opportunity, there for the taking by those prepared to embrace the change."
Those who know how to change, will win. I see Gen Y with a big grin, holding the trophy.
2. We Received a Pinned Down, Painful, Shot of Humility and Patience.
The moment most of us crossed the graduation stage, we wanted success NOW. We were talented, motivated — we were the shiz that didn't stink.
We wanted it our way. But quickly our way became no way in hell.
So we pouted. We threw tantrums like a five-year-old clutching a Tickle-Me-Elmo in a toy aisle.
But we've been forced to be patient and humble, slowly overcoming some of our greatest weaknesses. We've had the cocky slammed out of us like a Pinata at a brithday party.
And maybe that's not the worst thing to happen?
What are your thoughts about "thanking" the Great Recession?