Support Life! Get Egged
Ever wished you could support Eggs and Paul Angone's debut book All Groan Up: Searching for Self, Faith, and a Freaking Job! at the same time? Well call us a genie because that wish is now granted. Place one of these stylish Eggs onto your own website by copying and placing the code below into a text widget box on the sidebar of your website.
Each egg was designed (yes he actually drew on real eggs) and photographed by the very talented artist/photographer James Daly. If you need inspiration, creativity, and a partner in making your idea come to life – check him out!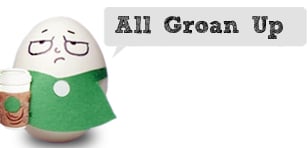 <a href="http://allgroanup.com/wp-content/uploads/2011/03/All-Groan-Up-Starbucks-Egg.jpg"><img title="All Groan Up – Starbucks Egg" src="http://allgroanup.com/wp-content/uploads/2011/03/All-Groan-Up-Starbucks-Egg.jpg" alt="All Groan Up – Starbucks Egg" width="308″ height="148″ /></a>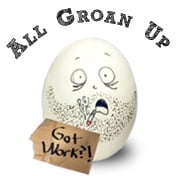 <a href="http://allgroanup.com/wp-content/uploads/2011/03/All-Groan-Up-Unemployed-Egg1.jpg"><img title="All Groan Up – Unemployed Egg" src="http://allgroanup.com/wp-content/uploads/2011/03/All-Groan-Up-Unemployed-Egg1.jpg" alt="" width="184″ height="176″ /></a>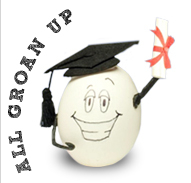 <a href="http://allgroanup.com/wp-content/uploads/2011/03/All-Groan-Up-Graduation-Egg.jpg"><img title="All Groan Up – Graduation Egg" src="http://allgroanup.com/wp-content/uploads/2011/03/All-Groan-Up-Graduation-Egg.jpg" alt="" width="191″ height="183″ /></a>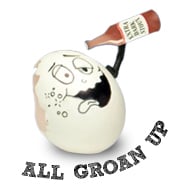 <a href="http://allgroanup.com/wp-content/uploads/2011/03/All-Groan-Up-Drunk-Egg.jpg"><img title="All Groan Up – Drunk Egg" src="http://allgroanup.com/wp-content/uploads/2011/03/All-Groan-Up-Drunk-Egg.jpg" alt="All Groan Up – Drunk Egg" width="178″ height="184″ /></a>