I've never told anyone this story before.
It was my first big break of my writing and speaking career. And I blew it. Or at least, that's how I felt.
I left feeling so defeated and foolish that I wondered if I'd ever have another chance like this again.
Ahhhhgg, my stomach feels like it's playing a one-man game of Twister just thinking about it again.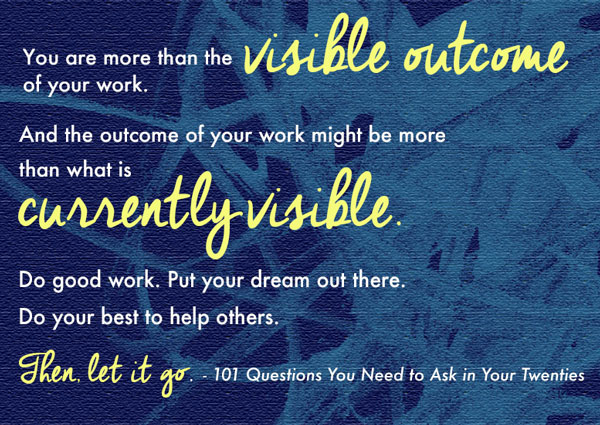 So, the story.
I was still working full-time in marketing and my first book 101 Secrets For Your Twenties had not yet come out yet.
I'd been working at the writing thing for years and had finally built enough momentum and excitement with my website AllGroanUp.com that a well-known university reached out for me to speak at their senior career day in another state.
I was going to do the big opening keynote, and then as well, a breakout session later in the day on networking.
I was thrilled!
For years and years I'd worked and failed and struggled to build enough momentum to grow my own business and this was my first real out-of-state, paid speaking engagement.
Yet, with working my fairly intense full-time job, while finishing 101 Secrets For Your Twenties on a one-month deadline, and helping at home with our two-year-old and newborn, I didn't work as much as I would've liked creating the talk before I left.
I flew out the night before my talk and remember making a corner of the hotel lobby my home as I downed coffee and worked on creating my keynote. I wanted it perfect, so I kept changing slides, adding things in, working through the order, and before you know it, it was 3:30 am and I had to be there at 8:00 am.
Thankfully, I finally went to sleep and heard my alarm! And got there on time!
The Big Keynote!
But man, was I a coffee-fueled, adrenaline-rush mess as I sat in the front row waiting to be introduced.
I remember when they called my name, I stood up so fast that I sent my coffee flying off the chair and across the floor. And this isn't even the embarrassing part of my story!
I got up and did my talk. It was a little rough in certain parts, but overall it went pretty well.
I've learned over the years, that just like a comedian crafting their routine, it takes a lot of practice and refinement to make a keynote powerful and smooth. I wasn't quite there yet, but the feedback and conversations I had with students afterwards let me know I'd done a good job.
Relieved and exhausted, I planned on leaving the campus to refuel and eat, before having to give my breakout talk. I touched base with my point of contact about the time I needed to come back. Then she informed me that she actually had to leave for a funeral, but everything should be set.
I went to a coffee shop and just crashed. I don't know if you've ever had this feeling of getting off such an adrenaline rush, mixed with exhaustion, that you're just done. That's how I felt.
I wanted to just fall asleep, but I needed to dial in my breakout session talk. I struggled through working at the coffee shop for a few hours before heading back to campus for my second talk.
When Everything Went Wrong
As I pulled up to campus, I knew right away something was seriously wrong.
All the students were pouring out of the building. I briskly walked up and asked one of the students what was going on.
"Well, the career day is over. Thanks for your talk! Bye…"
My heart sunk deep and got stuck under a rock.
I walked in the building towards the main check-in and caught the face of the director of the career center. She was furious and not hiding one bit of fury!
"Where in the world have you been!" She shouted at me, not caring who was around.
"Umm, I was at a coffee shop. I thought my break-out was at 2:00."
"The whole conference ended at 2:00! You were supposed to be here at 1:00!"
"I'm so sorry, I thought I'd confirmed the time with your assistant before she left."
"Well, she's at a funeral so I couldn't get a hold of her. And I didn't have your cell number. I emailed you over and over!"
"Shoot, I didn't check my email."
"Yeah I can tell," her fury had only grown hotter. "We had to just throw up an alum to do your session. I can't believe this."
I felt sick.
"I'm so sorry. I can give you the check back. I can't believe this either. I'm sorry."
"Don't worry. Keep it. Great working with you," she said dripping in sarcasm, then she was gone. A handful of people who'd witnessed the whole thing giving me those "that was ugly" kind of looks, with a brave student coming up and saying, "Well, I did really enjoy the talk you gave…"
I shuffled back to my rental car and if I didn't sit there and cry, dang I sure wanted to.
I remember going to a movie theater afterwards and watching Silver Linings Playbook – the dysfunction of the characters feeling like a fitting story for me to enter into.
I felt so extremely dejected. My first real opportunity and I blew it. I wasn't sure if I'd get another chance or if I could even do this whole speaking thing.
Why am I Telling You All This Now?
So you can catch a glimpse of the journey
Too often we shout our successes and then hide our failures. I know I'm guilty of this. I hid this story for five years!
However…
Along the path of accomplishment come many deep potholes of embarrassment and failure. (click to tweet that)
We hide the messy parts of our story when that's actually the most engaging and important parts for others to see.
I didn't just magically arrive at publishing three books and being a full-time author and speaker.
I stumbled my way to it. I still am stumbling my way through it. But I've learned that pretty and put-together is overrated.
You can't have magnificent without some messes along the way. (click to tweet that)
If our worth is tied to every outcome, we will feel worthless
We can't hitch our self-worth to the perceived failures or successes of each day.
As I write in my new book 101 Questions You Need to Ask in Your Twenties (and let's be honest, your thirties too), "Accomplishing less or more will never be able to sustain me. So much of my value was coming from the ebb and flow of success, so I kept getting tossed around by each new wave."
When we tie our worth to the perceived outcomes, we will be like yo-yo's constantly getting yanked up and thrown down at the whims of someone else's opinions of us.
You are more than the visible outcome of your work.

And the outcome of your work might be more than what is currently visible.

Do good work. Put your dream out there. Do your best to help others.

Then, let it go. Your dream can't fly if your identity and self-worth are clinging to the back of it." – 101 Questions You Need to Ask in Your Twenties (and Thirties)
Don't lather yourself in disappointment like a model in suntan lotion
You'll just keep getting burnt.
I've now spoken to thousands and thousands of people all over the nation. Thankfully, I didn't let this first big failure in my speaking career completely derail me.
It punched me in the gut and knocked me down, but I kept on swinging. And making sure for each future speaking engagement, everyone has my cell phone number and I'm triple checking with them all the logistics and details!
I learned time and time again what I wrote in 101 Secrets For Your Twenties, "Fail, but don't start calling yourself a failure."
Or as I ask in 101 Questions You Need to Ask in Your Twenties, "Am I bathing in disappointment like a cat taking a nap in its own liter box?"
Yes, we will make some messes. Clean them up and move forward.
Learn, grow, then go.
Are there any ways in your life that you've let past disappointments stop you from moving into your future successes? We'd love to hear your story within the comments on this article.