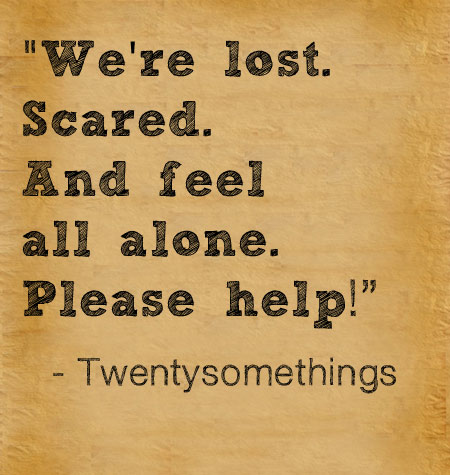 This note traveled over thousands of miles, through storms, and past highly trained assistants who are trained to snuff messages like this out – and yet, this message is in your hands.
Twentysomethings need your help.
And there's over 50 million of them, so we have our work cut out for us.

Twentysomethings thought they'd be sailing on the Rock the High Life Cruise Ship, but with the great recession, massive debt, and unrealistic expectations, their ship has sunk and they now find themselves stranded, scared, and alone.
I believe 101 Secrets for your Twenties can be their life-raft.

About 101 Secrets and Paul Angone
My name is Paul Angone, I'm married with two daughters, and I live in LA. I created AllGroanUp.com and wrote 101 Secrets for your Twenties to create a safe and authentic space for twentysomethings to ask questions, vent, laugh, and find encouragement that they're not alone in this twentysomething struggle. You can email me directly at paul[at]allgroanup.com or find me on Twitter at

@PaulAngone

.
A year ago I wrote an article called

21 Secrets for your 20s

and three days after posting, my website crashed due to tsunami waves of traffic with 100,000 + pins on Pinterest. It's now been read nearly a million times in 190 countries and 101 Secrets for your Twenties is an expansion of that article.

101 Secrets for your Twenties

releases July 1st and

I feel has the potential to meet a gaping need for a generation asking "what now?".
And I need your help in spreading this message of truth, hope, and hilarity.
Ways to Support 101 Secrets for your Twenties
1. Share
Would you be willing to tweet about the book? Or send a link about 101 Secrets on your website or send to your network?
Here's some sample tweets:
If you're a twentysomething, you need this book by @PaulAngone
Tweet

Twentysomethings! Kill two birds with as many stones as possible. Buy 101 Secrets for Your Twenties
Tweet

Secret #6 – Life will never feel like it's "supposed to." Check out @PaulAngone's 101 Secrets for Your Twenties
Tweet

2. Interview/Speak
How about interviewing me? Or having me speak about the current realities twentysomethings are facing and the "secrets" they need to hear. I bring ample amounts of passion, engagement, humor, and an authenticity that resonates with this generation. I believe so strongly in offering encouragement, hope, and hilarity to this generation that it pours out of me. This is something I can NOT not do.
3. Buy the Book
Could this book be a great gift for the twentysomethings you work with or who work for you? For bulk rates please contact moodycollective[at]gmail.com or myself at paul[at]allgroanup.com.
4. Can I Help You?
Are you trying to connect with a twentysomething audience? Do you have any current projects, ideas, strategies that I can help support or speak into? My sweet spot is being able to define what is the current narrative and realities of today's twentysomethings. Could I be of service to you in any ways?
Thank You!
Twentysomethings are lost.
Thank you for joining the search party.