Nothing says college graduation like receiving tons.of.terrible.advice!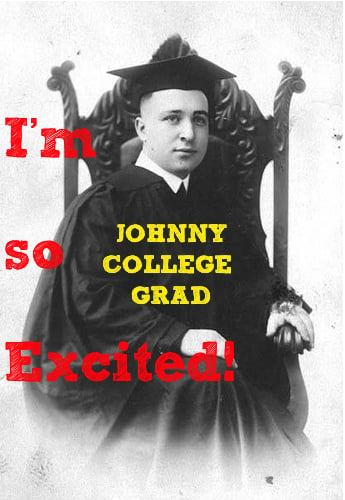 At your graduation party usually the father of a roommate or an uncle twice removed, The Grad Party Downer's one goal is to corner you with a piece of cake and ask you enough probing questions, and give you "real world advice" until you feel like there's a rather large butcher knife in your quickly deflating grad balloon.
I wrote about the Top 14 college graduation songs over the last 40 years and then the Top Five Things We Should've Heard at College Graduation. Now let's talk about the seven WORST TIPS we give college grads.
7) So…what are your plans for the future?
It's not a tip per say, but a question asked with enough smirk that you know he's going to enjoy watching your desperate attempt to spin I have no freakin clue.
The future?! Hell if I know. My goal was to graduate. I accomplished that goal. The future scares me more than finding a four-foot clown hiding in my closest.
6) I heard of this thing called Craigslist where you can find jobs
A bed frame? Yes. A date for Friday night? Scary, but probably. A job? Like a real-live employment opportunity that won't involve you showing up to an abandoned warehouse to meet a guy Vito at 8:00 p.m.? Not sure.
5) Well did you know my son is only 25 years old and has an amazing job at…(fill in the blank). Why don't you contact him for advice? 

Here's where the bulk of the conversation will rest.
Brag Son-Session 101.
And if you're a girl, he's probably going to elude more than once that it's your lucky day because his son might also just be free tonight (imagine that!)
4) Have you tried getting an internship?
It's not a terrible idea in itself — when you were in college. But now there's these things called rent. college loans. grocery bills. car insurance. health insurance. etc. At least try to land a paid internship, if you can. Experience is invaluable in the next couple years, yes. Just don't sell your young soul to get it.
3) I think you need to meet with your career planning office at school
Yes. Thank you. I tried that. And the one career fair they put on was top-notch. Sure it was 352 students for every one job, and that one job was selling toilet paper. But they did give me a button and a mouse pad. My future is all set.
2) I don't envy you trying to find a job in this economy. But don't worry too much. It's all in God's hands…
Thank you for that final punch to the kidneys.
1) And the #1 worse tip…well you tell me. What do you think is the worse tip to give a recent college grad?